The afternoon of October 25th, 2014, I sat at a table in Neptune Coffee with my friend I had known since 4th grade. We had a laptop open, browsing Craigslist for housing listings. She had lived in Seattle for the duration of her college career, so I let her sift through and eliminate the no-gos. All the names were foreign to me; I had lived in Spokane nearly my whole life. I learned we would avoid Renton because it was too rough, and Shoreline because it was too rich. The U District was too rough and too rich.

I think it was a drizzly day. Orange and brown leaves littered the sidewalk; some were tracked inside. Since Halloween was days away, the door was propped open and a barista stood by, handing out candy to costumed children. We perused Craigslist for about 2 hours, meanwhile, the block was overrun by tiny Elsas and Annas and Luke Skywalkers and Avengers stopping at each business to collect.

I didn't know we'd end up living in Greenwood a month later. I did know that the coffee was different. It didn't taste like Starbucks, it was... nuttier? It was my first coffee at an independent, third-wave, Seattle cafe. It thrilled me. This is what it's like here! This is my life now!

Since I had lived in Spokane most of my life, I had no know-how for identifying those indie coffee shops. For the next year and a half, I mostly stuck with what I knew: the first one I'd ever been to, the one by my house.
Around 2AM on March 9th, 2016, I was drifting off to sleep in my bed. Half-concious, I felt a low, long rumble, and I could hear the stuff in my room rattling. Was that a dream? I thought. Regardless, it had woken me up. An earthquake? Maybe a semi-truck going by? Did someone crash a car into a house? Doubtful I would see anything, I peeked out my blinds, for good measure. Nothing here. I got back into bed. Whatever that was, I'm sure I'll find out in the news tomorrow. The thought that it may have actually been a dream came back to me. Then I started to hear sirens. A lot of them. And they didn't stop coming for a long time.

In the morning, I woke up to a text from my housemate telling me her bus had been rerouted. Her usual stop, the one at 85th and Greenwood Ave., was gone.

At 1 AM, a natural gas leak had been reported in the area. 9 firefighters responded to investigate. Before the hour was up, the gas had ignited and exploded, decimating part of that block. The firefighters were checked into the hospital with minor wounds inflicted by falling debris, and soon released. Among the damage, windows were shattered at businesses surrounding the area. It was extremely fortunate that no one was seriously hurt or killed.
In my bed, I watched helicopter footage of the leveled businesses. I had expected maybe some walls would be left standing, to see some scattered furniture or charred remains of appliances. Instead, I was left speechless at the sight of three buildings completely reduced to their bare ingredients. Chunks of concrete. Splinters of wood.

Neptune Coffee was gone. Mr. Gyros was gone. The Quick Stop was gone. It was all just gone.

Throughout the day, firefighters continued to put out the remaining fires while others worked to clean up the debris. Reports of the community coming together began to pour in on social media. More than one GoFundMe had been set up to help take care of the employees who no longer had jobs. A commitee formed to strategize the next moves that would be taken to plan the rebuild. Cafes and bars offered free food and drinks to cops and firefighters and volunteers. Fundraisers were organized to help provide for the damaged businesses.

A video popped up on my feed via The Foundry Clothing Company's Facebook page. It was taken by Brennan Coyle, co-owner. It was a short clip panning past the shops on 85th. Many of them had boarded up their broken windows, like over a dozen others in the area, but people had started spray-painting playful messages on them. Squirrel's Buy & Sell read, "Squirrels, squirrells, squirrells!" Emblazoned on Fistful of Metal Tattoo was, "Sick Tattooz Bro!!" On Greenwood Optical, simply, "C Mo Better." People were chatting on the sidewalk, some smiling at the camera as he walked by. It was nice to see that everyone was picking up the pieces. I hadn't yet reconciled in my brain the notion that Neptune Coffee, the cafe where I'd spent hours on hours working on SNOWCOYOTE and designing for clients, simply didn't exist anymore. Those silly spray paint signs made me feel like, soon, it was all going to be okay.

This is what I really want to talk about today- what happened next. I interviewed a few key players to get their perspective in the recovery of the businesses of Greenwood.

"After the natural gas explosion in Greenwood, I spoke with my friend Jonathan Wakuda, a fellow artist in Seattle. He and I discussed options for assistance in the wake of the disaster, thinking of ways to do a street art oriented project that the neighborhood would support and appreciate. We were not alone with this idea! Thanks to Joey De Young and the local non-profit Urban Hands, there was an organized effort to offer each business that was affected, specifically those with noticeable damage and boarded up windows, murals to brighten up the neighborhood."

This is Andrew Miller, a member of the Greenwood Collective, an underground art studio on Greenwood Ave. Seven independent studios make their home there, as well as two gallery spaces run by Urban Light Studio.
Within days of the explosions, the plywood boards of numerous businesses were covered in art. Renaissance-inspired motifs, kooky graffiti you might find pasted onto lampposts, cartoonish mascots, tributes to Seattle. It felt like they had appeared overnight, though I leanred that wasn't quite the case.
Joey De Young is Executive Director at non-profit organization Urban Hands. Usually, Urban Hands focuses on serving the homeless and food insecure communities in Seattle. They have a small job training program which they are hoping to expand this fall. Joey has worked in Greenwood for four years, and when he heard about the explosion, he knew he had to help.
"It has been my village amidst this huge city, where I can know dozens of neighbors, employees, owners, and homeless individuals when I walk the streets. So when I heard about the explosion, all I could think about was the arson spree from 6 years ago which burned down a number of storefronts I loved and spent time in. Simultaneously, I knew the generous and loving way this community responded then and knew it would do so again. 6 weeks later, there is evidence of this everywhere you look."

The monthly Art Walk happened a couple days after the incident, as planned. Joey attended and recruited whoever was willing to help out at a large-scale service event happening the next day.

Andrew told me, "On the Saturday following the blast, a group of artists and community helpers took to the wood panels and painted. This led to more businesses participating and more murals being painted in the days and weeks following. Urban Hands provided paint and materials and the artists provided their time and creative minds to make this happen. I can say that the reception for this project has been overwhelmingly positive. One of the great things about painting and making art in public are the compliments and encouraging words you hear from the community. Everyone has been super thankful and have expressed their compliments for our efforts."

"We were trying to find a tangible way to help our neighbors and create beauty in the midst of devastation. The plywood art was an afterthought to begin with, but it's left the most lasting impression out of everything we did that day," Joey said.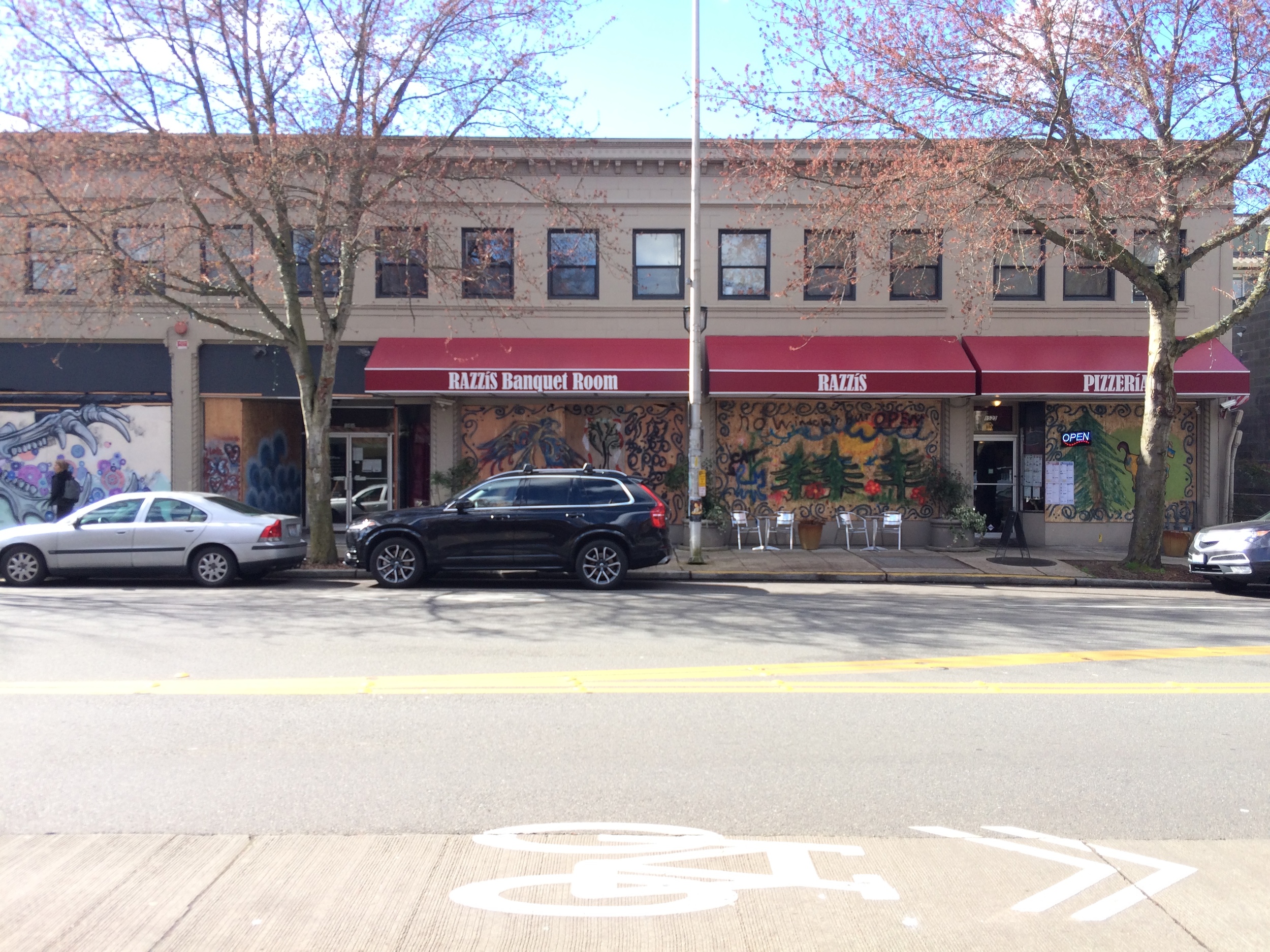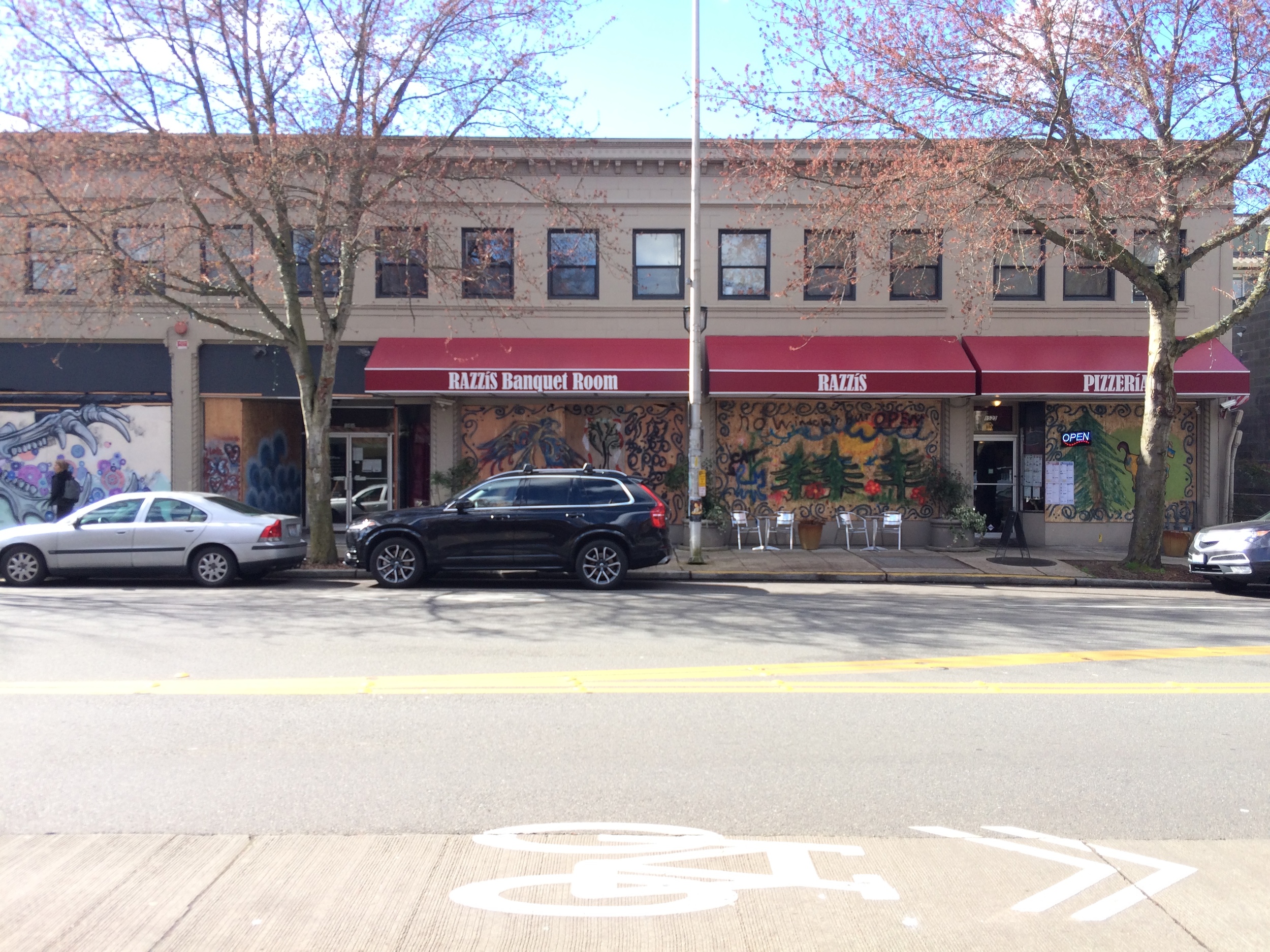 Many of the artists did not know the business owners personally. I wondered if the owners got to choose what was displayed on their storefronts, but it seems that the artists had most of the creative liberty.
As I took this photo of Wakuda's mural at the office of Sanctuary Christian Reformed Church, a man entering the building stopped next to me. "Do you like our dragon?"

When I asked Wakuda how he got his start doing street art, he told me, "Street art, muralism, etc, come from the desire to communicate with people in the context of locality. It's as old as time. " One of his projects in March was KEXP's new home.

Brandon Baker, a.k.a. Narboo is another staple of Greenwood street art. "Street art has always just been a fun outlet of sharing my characters. I have dozens and dozens of sketchbooks full of characters and I didn't want to keep them to myself. For the most part it's all been a very positive experience. I get emails/messages all the time that say people were bummed on the way to work and they saw a sticker of mine and it brightened their day. That's powerful. That makes me happy. I try to do the same with my paintings and comics. I also have loved pasting bigger handdrawn characters in Post Alley at Pike Place Market over the years. That exposes my work to people from all over the globe. The gum wall keeps ruining it but I can find some space from time to time to put up a character. If I can make people smile, laugh or just interrupt their norm, then I've done my job as an artist."

I asked how he found out about the explosion. "My wife, Krystle woke me up and asked, wasn't I was going down to the studio this morning? and then handed me her phone with a video of a burning building and the caption said 85th & Greenwood which is basically the location of our studio space. It was shocking! The first thought was, I hope everyone is ok. Then I'm like, is our studio gone? Did dozens of artists just lose a lot of their work? Art walk was in 2 days so a lot of everybody's art was hanging up and in the collective. I went to check it out in person and our studio was totally fine. Where the explosion happened was a different story. It felt very surreal to walk up the alley behind it and see where 3 businesses used to be- it was basically rubble, and all the damage to the surrounding buildings was eye opening. I'm just so glad no one was killed."

I'm still fairly new to the Seattle art scene, but along with Narboo, I know I'd seen Starheadboy's paste-ups around the neighborhood. Dave Bloomfield ("Starheadboy") is part of the Greenwood Collective as well. When Joey De Young came to the Art Walk show to approach the artists for help, it was the first time he had met him. "...He organized one hell of a paint event, the next morning the street was bustling with painters and volunteers, it was awesome!" After Starheadboy had contributed his part, the owners of the building he painted reached out to him and offered a space to show his work.

"The connection that I have to the Greenwood neighborhood is pretty deep. I was born in Seattle and spent the first 4 years of my life in Greenwood, just off of 79th. My parents moved to the suburbs, south to Federal Way. The first shows of my artwork were in Greenwood during the annual artwalk in the early 2000's that was held for years until the monthly artwalk started. I've shared a studio in the area for around 5 years now. The neighborhood keeps pulling me back."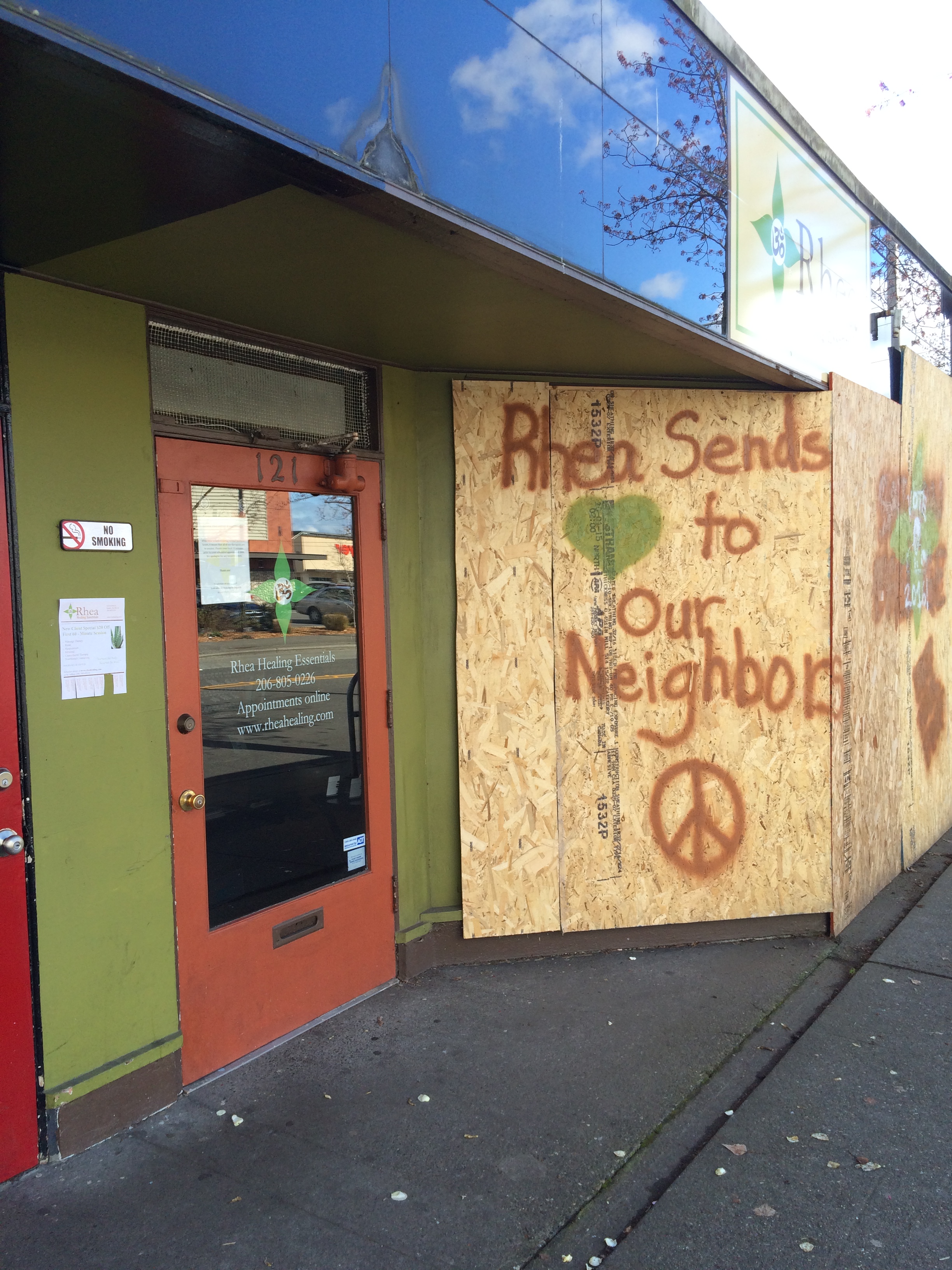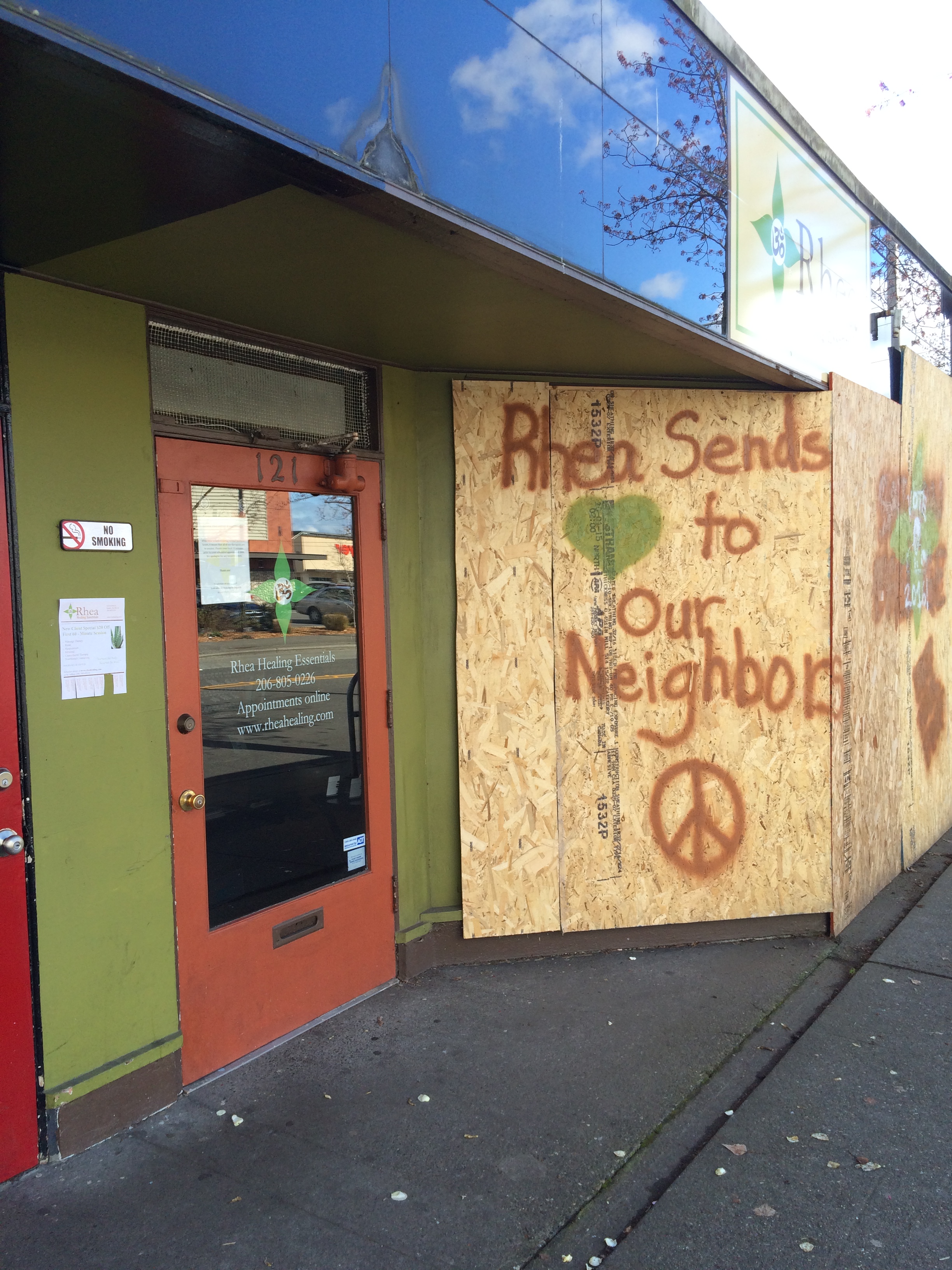 A few more murals popped up after I had taken my photos, and now a few are beginning to get taken down as the windows are repaired.
Joseph Brooks and Andrew Miller, as representatives of the Greenwood Collective, told me how readers can support the studio.

"Best way to support us is to come out to Artwalk. See what we are all about. Follow the individual artists on social media and purchase work from local artists instead of large corporations . This is how a lot of us make ends meet, support our families and live in the crazy world we all share," Joseph said.

"...Show up and check out the work of all the wonderful artists in the spaces. Each second Friday of every month, 6-10 pm. It's a new experience every time!" Andrew said.

I have a sticker window. It's a window pane hanging on my wall, covered in stickers, as one might guess. Over the years I've collected stickers from Spokane businesses and Urban Craft Uprising vendors and other companies I try to support. Yesterday, I was admiring my progress filling up the glass and I found myself wishing I had something from Neptune Coffee, to remember it by. Maybe not a sticker, but a t-shirt or something. I had spent hours there taking up space with my laptop, after all. Besides the price of my coffee and sandwich, I should have at least pitched in a little something extra. My desires are still pretty selfish, I admit. I want my hip Seattle cafe back.

When I asked Joey if he knew if the demolished businesses were coming back, he said he didn't know. "The rebuild is well underway. G&O Family Cyclery has re-opened just on the other side of 85th Street. Flint Creek Cattle Co. is moving forward with their renovation of the old Antika store directly on the corner. The storefronts that were completely leveled are a mystery to me still. I know the owners from both Mr. Gyros and Neptune but haven't heard one way or the other. And I'm not sure about the Quick Stop. A number of spots have replaced their plywood with new windows, while many of us still wait on insurance and quotes to get this all sorted out. It's a long process."

Soon, the art will be gone, too.

But what will become of it?

"One thing I'm really excited about is the BIG Art walk on May 13th and 14th. On Friday the 13th from 6-9pm, we're going to be auctioning off all of the art work that was created on the plywood, with proceeds going to the relief fund. We'll be opening our space at 5pm for a cocktail hour, with proceeds going to Urban Hands, and have art that Bashir [from the Greenwood Collective] and others have been working on the last few weeks up for auction and for sale as well. Then at 8:30 we'll announce the winners for the auction and folks will walk away with some incredible, meaningful, and LARGE pieces of art."

The auction will take place at 8420 Greenwood Ave N, at Greenwood Square. Be sure to visit the Greenwood Collective at 8537 Greenwood Ave N as well! Visit Art Up PhinneyWood's website for a full list of all the participating businesses and artists.
What the future holds for the business district of Greenwood will be revealed in time. Visions of new coffee shops dance in my head.
Get in touch with the artists and activists mentioned here

Was your art featured here? Are you one of the business owners with more details you'd like to share? Please email me at snowcoyotemail@gmail.com and I will update the story!
The music used in the video comes from here.